Scottish Fold's or any Cat's Favorite Automatic Food and Water Dispensers
Scottish fold's or any cat's favorite food and water dispensers
Do you ever feel that your cat is the one and only friend a human should ever have? I know I did. So why not give them the best treatments in order for them to remain or become more quiet and peaceful? That is why in this article I'm going to present to you some very intelligent machines that were invented so you can keep your Scottish fold or whatever cat you own happy and correctly fed: the food and water dispensers.
Characteristics and specs of food and water dispensers
When it comes to the food and water dispensers, you can look for some keywords depending on your needs. It is also a matter of money. Before you go online and search for any for those, you need to think about your pockets first. Although, you should remember that your cat deserves more than a few dollars. I'm going to cover a solution for every budget in this article, so stay focused and continue to read.
A food dispenser is in fact exactly what the name says. It is a machine that dispenses food for a cat. But what is the difference between the normal and the automatic ones? The normal one is usually made with 2 parts: the bowl and the plastic container. And now you are probably asking yourself: why wouldn't I buy just a bowl instead, this doesn't help me at all. Not entirely true. You can put a bigger amount of food in the plastic container and it will drop more each time the cat will consume some of the food that is already in the bowl.
Automation time
Yet, the automatic ones will take the feeding of your cat procedure to a whole another level. You can set the time, the quantity and the number of feedings this machine will give to your cat. It's like having another person to take care of your cat. Fortunately, this robot will not play with your cat, so it will not steal the affection of your cute pet.
The water dispenser does pretty much the same thing: it dispenses the other vital product of an animal, water. The normal one uses the same 2 parts, and it utilizes the same principle to fill the bowl, gravity. The automatic dispensers have the same technologies as the food ones, but usually, a more advanced machine will come with both food and water dispensers.
Why would you need any of those?
This is a question a lot of my friends ask me when I tell them about the dispensers. And my answer is always short and simple: because it makes your life easier. Let's make this clear: I'm not that lazy person that is not up for anything and can't even get up and feed her own cat. The true advantage is that I can program this machine and leave for work relaxed, knowing that my Scottish fold is not going to be thirsty or hungry, even if my boss asks me to spend some extra time working.
Also, this helps your cat follow a strict diet that will make sure her body is going to be flawless because luckily, the machine will not be impressed by your animal begging and will give her the amount of food you set.
Your cat needs different amounts of water depending on the weather so instead of leaving her thirsty for a long time, just buy one of those and let her enjoy. They have a really stressful life because eating and sleeping all the time is hard, so why not make them love you even more?
So this machine will save you time and make your kitty not only prettier, but healthier for a reasonable price that you are only going to pay once because the dispensers are very durable. Do you need more arguments? I didn't think so either.
How much food to put in a food dispenser?
Although that is an easy question, I get it all the time. Open the container and fill it out completely. Then go to the machine settings, simply set the amount of food you want it to drop, how many meals there should be and the hour you want it to drop.
Most of them are electrical so just make sure you recharge it every time it runs out of battery because trust me, you don't want to let a hungry and angry cat alone in the house. It will destroy every part of the house you love.

DIY food dispenser
Before we jump into the suggested options, I want to help the people who are on a budget. You can do a food dispenser by yourself at home, it is really simple and quick, but not too efficient. However, some people will be very pleased with this.
You are going to need 2 plastic bottles and a knife.
Step 1:  Cut a hole in the middle of the first bottle in order to plug the first bottle into the second one;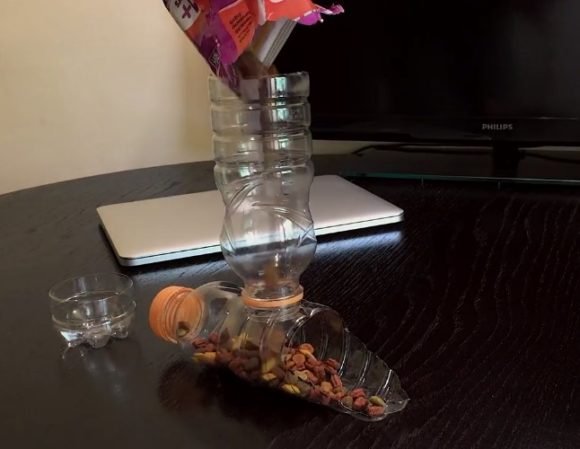 Step 2:  Cut both bottles in half and make sure to leave some space in the second one so your cat can eat from it just like in the image
Step 3:   Attach the first bottle to the second one and gravity will make sure your cat will always have some food as long as you fill the first bottle with a little more food
Step 4:   After you filled out the bottle, make sure to attach the other half so your food doesn't drop everywhere in case your cat gets naughty, just like in the next image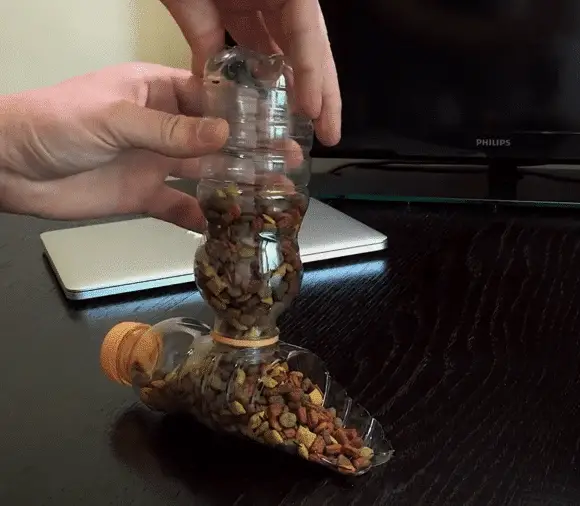 Best Food Dispensers for your lovely cat
WESTLINK 6L Automatic Pet Feeder Food Dispenser
The number one on my list must be the WESTLINK 6L Automatic Pet Feeder Food Dispenser. It will definitely satisfy every cat lover because of his functions, some of them are really amazing. A big capacity that can supply your cat up to 4 meals, ultra-low power consumption, and USB charging are some of the most important features.
However, the last one will blow your mind. You can record your voice and every time it's meal time, it will play your voice just to make sure your cat will know when to eat. All of those, for about 90$ on Amazon. It has plenty of good reviews, so you can trust it. I will leave a link in case you want to take my advice. (click here to check the current price on Amazon)
PetSafe Healthy Pet Simply Feed Automatic Dispenser
Another really interesting option is the PetSafe Healthy Pet Simply Feed Automatic Dispenser. Although is a little bit more expensive, I can say it is worth it. It has a larger container that can distribute up to 12 meals a day with flexible portions from 1/8 to 4 cups, so it can be helpful when you own more animals. It also supports both dry and semi-wet food and can accommodate many sizes and shapes of dry and semi-moist food.
The amazing feature of this robot is the Slow-Feed mode, that can save you from a vet visit or some money for the new carpet you would be obligated to buy. Basically, this mode is allowing the food to dispense over 15 minutes to prevent the pets that eat very fast from bloat, indigestion, and vomiting. People seem to like this machine as well, based on the reviews. I will also leave a link for this one. (check the price here)
Van NESS Medium Auto Feeder
We can't end the list without a normal dispenser. You can't go wrong with the Van NESS Medium Auto Feeder. If you were thinking about buying one and didn't want to spend every holiday savings, this is the one for you. You can deposit 6 pounds of food to make sure your cat will not be hungry. Although it isn't an automatic one, it has a removable lid for a very easy cleaning. Very high ratings for a 15 dollar dispenser on Amazon, so I highly suggest you try it. The worst thing that can happen is to lose the money for a meal. Worth the risk I would say. (check the price here)
Conclusion
Overall, even if you decided to buy something more expansive or even build one yourself, your happiness is going to be a lot happier than before. I am guessing you will feel the difference as well because you will not have to get up and supply your cat's bowl every 2 hours. Before you consider buying one, I shall remind you that it is a one time purchase, because most of them, especially the pricier ones are durable and effective. What is the dispenser you own? How did it change the life of your cat? Let me know, you may even make me buy a new one!