What Kind of Cat Carrier Do Scottish Folds need?
What kind of cat carrier do Scottish Folds need?
Do you ever feel that your life is so boring and repetitive that you are tired all the time? I know I feel like that sometimes. What is the remedy for this? That's a simple question and the answer, is also simple and easy to figure out: traveling. Everyone loves going on vacation and it is a useful technique to make you and your family happier. But there is a catch. You can't leave your adorable and fluffy cat home alone.
How do you get over this obstacle? You take it with you! That's why, in this article, I am going to present to you the best cat travel carriers for a Scottish fold, British Shorthair, Chartreux, Russian Blue, or any medium size cat to make sure she will be happy and not lonely at home.
What to look for in a carrier
The most important thing to look for in a carrier is the size of it. You can't buy a large and bulky one, because, in certain scenarios, it will make your life very difficult. Not only it will be hard to carry, but sometimes, it will not be legal. Traveling by plane is a good example. Most flight companies have very strict size restrictions, so the cat will not even be allowed to get on the plane. On the other hand, a small carrier is even worse.
The animal will be anxious and stressed out, and you definitely don't want an angry cat with you. To make the right decision, measure your cat, and make sure the carrier is at least 1.5 times the size of your kitty. This should allow it to move about without affecting the balance and ease of carriage of the carrier.
The load capacity is also something you should consider. The product should have more capacity than your cat's weight. You don't want to hurt your little fellow, so getting a carrier that can hold the same weight as the weight of your cat is not recommended.
Your cat can gain some weight instantly by eating or drinking water so you should watch out. For example, a Scottish Fold usually weights between 6-13 lb depending on the gender, so you should buy a carrier that can handle your cat's weight +1lb. The British Shorthair is almost the exact size as the Scottish Fold.
The next important characteristic of a carrier is the security of it. You should look for a mechanism that not even a brilliant cat could figure out, as a double zipper. The last thing you want is to lose your precious animal, so make sure the bag is secured and ready to use.
Soft vs hard carrier
The material can be a crucial characteristic from many points of view, so that's why we've created a subheading just for that.
The soft-sided carriers are usually made from nylon or ballistic nylon and they are lightweight and easy to carry around. This is the perfect choice for careless and calm cats. Why am I saying that? Because getting this kind of bag for a scared to travel or an agitated feline will be a nightmare. It is very likely that they will tear out the nylon mesh ventilation panels, leading to a torn nail or even an escape.
Some of the soft ones are really hard to clean but much comfortable than the hard ones. You should check if it does sag while your pet is inside. This is going make the difference between the very nice and bad for your kitty soft carrier. You can check this in the store with an easy test. Put items equivalent to your cat's weight inside it and check if it sags.
Hard-sided carriers are made from plastic and they are sturdy and durable. These are easily the best in terms of cleaning. However, I do not recommend this if you plan on traveling by plane a lot. They are bulky and might not fit under the seat. If you do manage to fit it in, you are good to go.
Not even a bag dropping on it can damage this carrier. Look for a steel mesh door, they are the best and much sturdier than plastic mesh. Because of its big weight, make sure to test it before you buy it. Do exactly the same as the soft-sided test, and make sure the handle can support such weight.
How to clean it
You've done traveling and you are ready to prepare the carrier for the next year's vacation. How do you do that? In case you bought it before you thought about this, you might be blaming yourself for your mistake, depending on the material.
If you were lucky and smart enough and bought a plastic product, good news. The cleaning is all about taking a moist cloth and clean any dirty area inside it. Then take a dry cloth and give the insides of the carrier another wipe, and that's it, you're done.
If your product isn't from plastic, it all depends on the fabrics. If they are machine washable, good for you. Although I don't recommend washing it too often, it might damage the fabric and you will be put your beautiful animal in danger.
If the carrier needs to be hand-washed, good luck to you. The procedure can be tedious and very hard, but not impossible. Use a brush and make sure you use a good amount of soap, then let it dry.
The best cat carrier backpack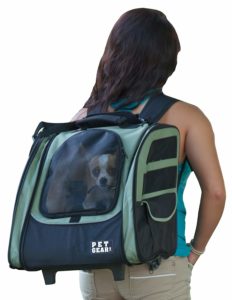 A more interesting variant would be the backpack carrier. It very useful for traveling for the situation where you have both of your hands occupied. My recommendation is going to be the pet gear 1-GO2 Plus Traveler Rolling Backpack. This amazing carrier offers the benefits of five products in one.
Depending on the situation, it can be a carrier, a car seat, a backpack, a roller bag or even a tote. The only thing that you need to do is to place your cat inside it then zip the front mesh. You can even carry your cute kitty as a suitcase, just use the telescopic handle. It has a stylish and simple design, and it is well ventilated. Unfortunately, this is not the product for you if you travel by plane a lot.
The carrier is perfect for a Scottish Fold or British Shorthair cat, but the bag can be expanded by unzipping the sides, adding up to 3 inches of space, so a medium cat will fit as well. So, let's review all of that. Has five functions, very durable because of the good materials, well ventilated, has a nice design and is easy to wash.
All of that for only 40 dollars on Amazon, with also great reviews on there. Again, if you're not traveling by plane too much, it is a must-have. I will leave a link for you to buy from Amazon: (check the price on Amazon here)
How to calm down a cat in a carrier
Sometimes, your cat will get anxious and angry when it travels, especially if it's the first time. There is no doubt that the carrier will shake. A lot. That will make your cat even more scared. There isn't too much to say about this topic. Every time you hear your cat crying or starting to scratch the carrier, just put your hand through and start petting it, give them as much contact as you possibly can.
Although it may seem very tempting, don't open the carrier in a public place. Especially if the cat is too agitated.
This could end up very bad, as cats do not care if you are the parent when they are scared. Usually, they will run as fast as they can. Cover the case so they can't see too much, this will calm them down a little. Also, hold it close to the body, in order for them to feel your body move. Even if you tried anything, I do not suggest using any cat-calming pills. They can really affect your kitty's health unless you can find some natural treats.
Top 3 best carriers
After all this information, it's time to get to the most useful part of the article: our recommendations. We are going to cover more options because the budget is an important factor for most of the people.
Overall, looking at the features and price, the best option must be the Sherpa Deluxe Pet Carrier. It is available in 3 different sizes, and also, it is soft-sided. We've already talked about what that is, but we're going to get to the advantages of that again later. Your cat will feel very comfortable and it is also built for convenience and maximum durability. You don't need to worry about buying a new one every year when buying this.
Let's talk about what people look for in those: can you travel with it? If you usually travel by car, the carrier gets you covered: it features a seatbelt strap. If you are like most other people and you travel by plane, you will be surprised. The carrier has a policy where you will get your money back if someone will not let you on the plane with this. The carrier can be compressed by several inches, just to make sure it will definitely fit under the seat.
Let me tell you about the cons before I tell you all the cool features this product has. It is more rigid than other airline carriers, is vulnerable to heavy chewing and clawing and can't handle cats that weight more than 20 pounds. A Scottish Fold will almost never reach that weight, so it's perfect. After all, it is a soft-sided carrier, most of them have these disadvantages.
Sherpa Travel Original Deluxe Airline Approved Pet Carrier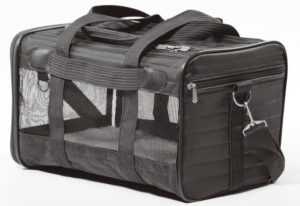 On the other hand, it has a quality construction, is perfect for airline or car travel, can compress in order to fit better, has escape-proof locking zippers, great ventilation because of the mesh panels, roll-down flaps for privacy and a modern looking design. So many good reviews and 4.5-star rating for just 40 dollars if you choose the black one. Hurry up, it's not going to be on sale for too long. (check current price on Amazon)
Necoichi Portable Ultra Light Cat Carrier
Another good carrier must be the Necoichi Ultra-Light Portable Cat Carrier. This must be the very best budget-friendly option. It is also one of the most lightweight cat carriers on the market right now. It gives your kitty enough room to stretch out or sit up, while it still remains secure, because of the heavy-duty zippered mesh panel. It includes all the advantages that soft-sided carriers usually come with.
Although it isn't airline approved and is not recommended for long trips, this definitely worth the price. It made a lot of people happy according to the reviews. Here is a link to it: (check current price on Amazon)
Petmate Two Door Top Load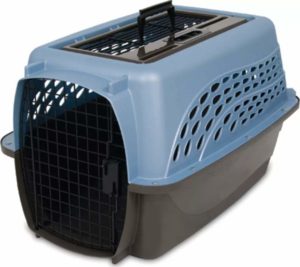 The last good pick on our list must be the PetMate Two-Door Top-Load Kennel. It is hands down, the best hard shell cat carrier you can find on the market right now. It is made from heavy-duty plastic materials, so it ensures durability, safety, and security for your feline. Has a steel-coated wire door, an ergonomic comfort carry handle, offers a lot of visibility and ventilation, simple design and comes with 2 doors.
However, this will not be allowed by some flight companies, has only 2 sizes available and can't be just bought and used, it does require some assembly so watch out. Costs about 40 dollars on Amazon, and also has a 4.5-star rating from almost 3600 reviews: (check current price on Amazon)
Conclusion
In conclusion, traveling with your cat can sometimes be a stressful experience, so you must make sure you have the right tools for it, like the right kitty carrier. We told you everything you needed to know about choosing the best one for you, and now you should help us by answering the next question. What kind of cat carrier do you own and what was your experience with it so far? Name us your opinion on what is the best cat carrier for a Scottish Fold or British Shorthair?